Toshiba 3.5-Inch 2TB 7200 RPM
In Stock
About this item
The SATA interface 7,200 RPM desktop series drives are targeted at desktop all-in-one and gaming PCs, home servers, external HDDs, and consumer electronics products such as set-top boxes and digital video recorders.

Serial ATA (SATA) is a serial interface that can operate at speeds up to 6Gb/s. SATA is scalable and enables easy integration, high performance, and efficient system designs. SATA is the evolutionary replacement for the Parallel ATA (PATA) storage interface.

Ramp Load technology restricts the drive's recording head from touching the disk media, resulting in improved protection of the drive while being transported and less wear to the recording head.

Optimized for use in power-friendly consumer and commercial desktop computing systems, the drive's power management technology provides significant power consumption savings at 5.2 watts (or less) active idle, and 1.0 watt standby and sleep power requirements.

Toshiba's advanced servo techniques and mechanical design minimizes drive acoustics, making them as silent as possible during operation.
الوصف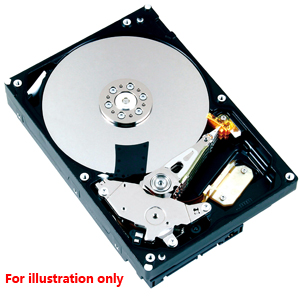 Engineered for high performance and low power for cooler operation, the DT01ACA series of 7200rpm 3.5″ HDDs is Toshiba's first 3.5″ hard drive for use in power-friendly consumer and commercial desktop computers. These desktop drives feature 1 terabyte-per-platter technology in capacities ranging from 500GB to 3TB (1, 2 or 3 platters), and comes equipped with 32MB (for 500GB & 1TB models)/64MB (for 2TB & 3TB models) for fast data processing
The DT01ACA drives connect to host systems via SATA 6Gbps interface, for ultra fast access to your movies, games, music and other forms of files. Advanced Sector Format technology is also employed, which utilizes the industry standard 4K byte-per-sector configuration and improved error-correcting code functionality to enhance data integrity while making more efficient use of the storage surface area.
Up to 3 TB of Data Storage Capacity
3.5-inch, Low Profile Form Factor
7,200 rpm
SATA up to 6.0 Gbit/s
Advanced Format (AF) 512e Sector Length